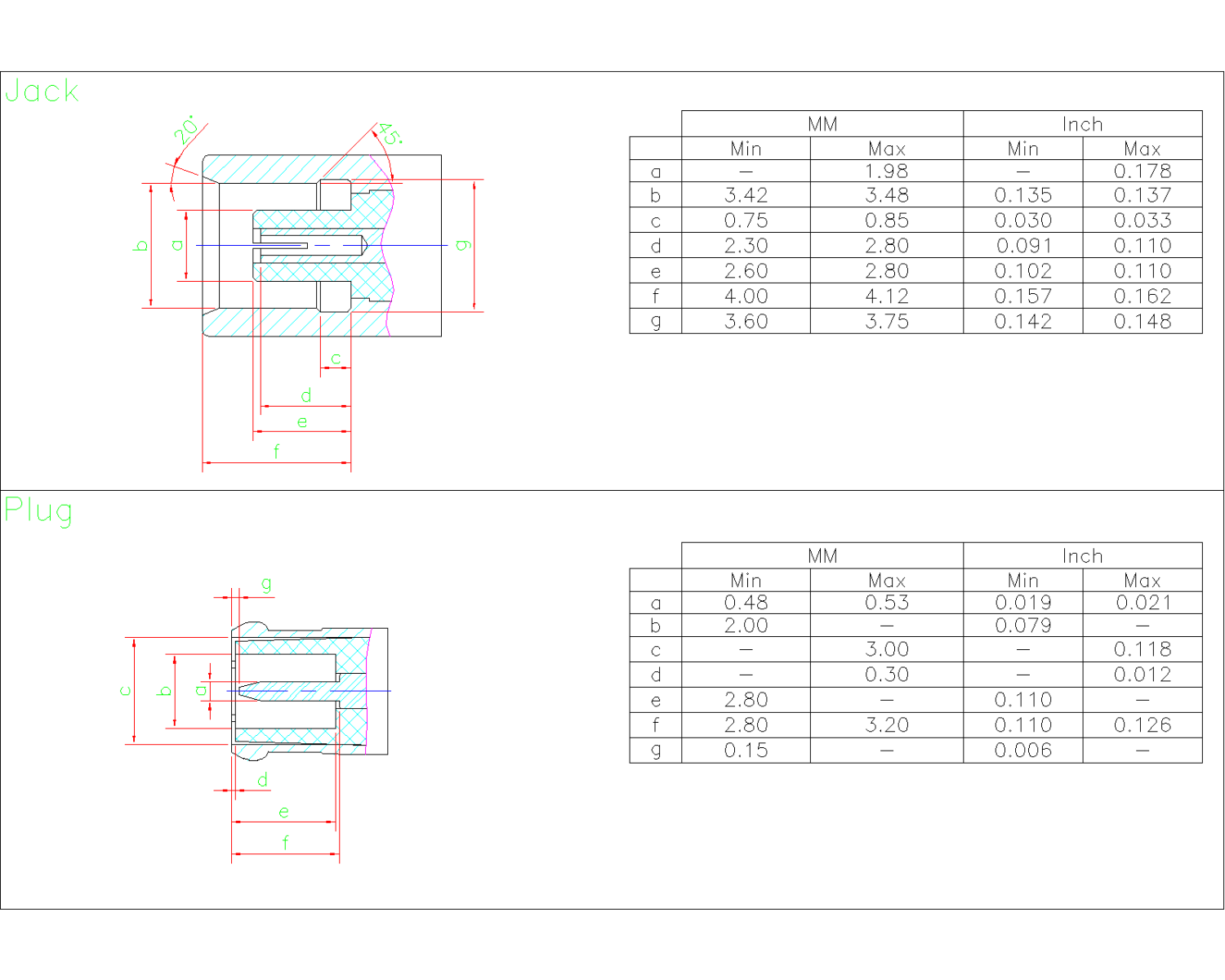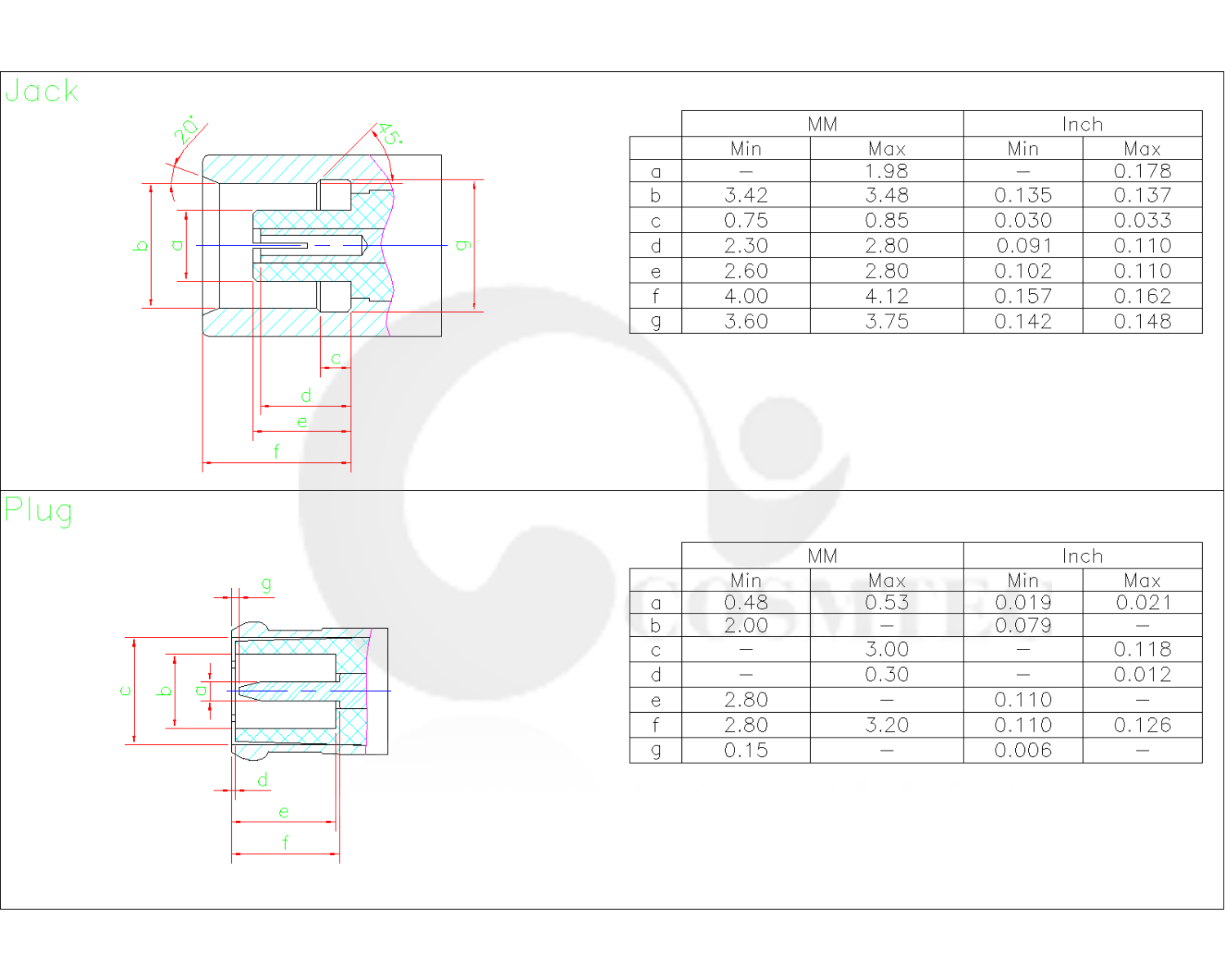 | | |
| --- | --- |
| Mating Cycles | ≥ 500 |
| Coupling Torque | 14N |
| Materiel: C-Ring | Stainless , Copper |
| Materiel: Outer Conductor | CuZn39Pb3 |
| Materiel: Inner Conductor | CuZn39Pb3, CuBe, CuSn |
| Materiel: Other Parts | CuZn39Pb3, SUS303 |
| Materiel: Insulators | PTFE |
| Materiel: Gasket | Silicon |
| Finish: Inner Conductor | Au |
| Finish: Outer Conductor | Au |
| Finish: Other Conductor | Au, Ni |
| Climatic | 55/155/21d (PTFE) |
Contact Resistance: Inner Conductor

≤0.005Ω

Contact Resistance: outer Conductor

≤0.0025Ω

Insulation Resistance

1GΩ

Voltage Poof

2.5kV

Impedance

50Ω

Working Voltage

≤1kV

Frequency

0 ~ 6GHz

VSWR

1.2 @ 1GHz (Straight)

1.4 @ 1GHz (R/A)
MCX connectors have a snap-on coupling mating and provide broadband capability up to 6 GHz. MCX connectors are designed for 50 OHM and modeled to fit 75 OHM. MCX series are 30% smaller than the SMB in mating size. MCX series are available for flexible, conformable and semi-rigid cable type. MCX connectors are available for mounting to printed circuit boards utilizing through-hole soldering, press-fit and surface mount technology (SMD). Both solder and crimp modes are used to assemble MCX connector to cables. Applications of MCX series are available for Automotive, Base Station, Components, Telecom GPS, Head End Equipment, Instrumentation PC/LAN, Radios, WLAN Wireless/Networks Antenna.
Electrical
Impedance
50 ohm
Frequency range
DC ~ 6 GHz
VSWR
1.3 max (stright)
1.5 max ( right angle)
Dielectric withstanding voltage
1,000 Vrms
Working voltage
335 V rms
Center contact resistance
5 m ohm
Outer contact resistance
1 m ohm
Insulation resistance
10,000 M ohm
Mechanical
Coupling
snap-on
Contact Retention
Mating torque
Mating Durability
500 matings
Environmental
Temperature Range
-55°C to +155°C
Vibration
Corrosion resistance
Materials
Body, coupling nut
Brass
Insulator
Teflon
Center contact
Brass (male) / Beryllium copper ( female)
Crimping Ferrule
Copper / Brass
Body plating
Gold
Center contact plating
Gold
Note: These characteristics are typical and may not apply to all connectors.
Applications:
GPS
W-LAN
Base Station
Antenna
Satcom
Telecom
Radios
Automotive
Instrumentation